BG Music: youtube.com/watch?v=Xiv1VNL-ozw
Joey woke up in the middle of what seemed to be a thick forest. He didn't say a word. Joey looked around fore a minute. The air was still and the forest was unusually quiet. No crickets, no wind, no rustling leaves. Total silence. After trying to wrap his head around what was happening, Joey noticed a chair several feet in front of him. He could barely make it out because it was dark. Joey walked to the chair and sat down without thinking. Five minutes passed, then a voice called out to him. "Can I help you, boy?..." Joey turned around. He just realized that he was in a a bar chair in front of a sunglasses-toting bartender. "Umm... where am I?" Joey said. "Usually people ask that AFTER they hammered, hmm?..." Joey stood silent for a moment. He couldn't quite remember how he had gotten there. Joey was sure he was awake the whole time, but he never remembered walking in. "Oh... then I guess I'll have a Crown Royal," he said, giving up on finding out how he had wandered in.
After a few minutes, the bartender brought Joey's order. But something was off. There were two Crown Royals. Joey seemed puzzled. "Excuse me, I only ordered one." "I know. It's her order." Joey looked next to him to see a pale woman with spiky blue hair and bright hazel-colored eyes. Joey's mind stood still for a moment, then it hit him. This woman was familiar. After taking a moment to think, it had finally hit him. The woman's name was Sunny June.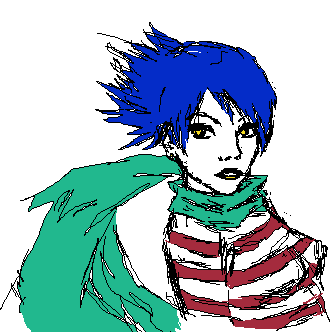 "Sunny?... When did you..."
"Hello, Joey. Been a while, hasn't it?"
"Since when did you... how did..."
"Easy there, Mr. Lion. One question at a time. Though, when I think about it...You never really bothered to answer any of mine back then."
"Sunny, I-"
"It's okay, Joey. Girls start to get the idea after a while when you don't want to say anything. So what was it you wanted to ask me?"
"Just...never mind, actually,"
"Sigh...See that's what I'm talking about. You're never straightforward when you have something when people ask you to be."
Joey didn't say anything back.
"Sigh... whatever, it seems like you're doing alright and I'm glad you're holding up. I'll catch you around," Sunny said right after she had finished her drink and had gotten ready to leave. "Sunny!" Joey shouted. Sunny stopped at the door without turning her head back and replied "Yes?" "I... uhh.. It was nice seeing you again." Joey responded. "Yeah... you too," she said back to him. Joey started reflecting a bit. He and Sunny would always go out for Crown Royal. It was kind of a ritual of theirs. Joey had wondered why she was in the area around Magic Cram Academy, but then he decided not to dwell on it. The bartender told him "Looks like you're having an off day, boy. Why don't I just leave it on your tab?"
"I appreciate it, umm..."
"You can call me Mustafa."
"Alright then. Thanks, Mustafa."
"Hehe, you be good now, kid."
Mustafa looks like this:
Joey started walking and felt scatter-brained for a while. Before he had realized it, it was early in morning and Joey was at the entrance of the forest. "Man... I think I need another day off." he said to himself while heading back to campus.